EVENT INFO
Date: Saturday July 28th, 2012
Time: 8pm – close
Location: One Ferry Plaza (behind the Ferry Building)
RSVP is required to attend the event. Not a member? Apply for membership
---
TICKETS

Event is private. You must be a member to RSVP. Login. Not a member, learn more. Have a ticket code? Click here.
---
Follow the conversation on twitter with @lamsocialclub #LAM5
Join LAM and multiple Bay Area Latino professional organizations to celebrate five years of building a strong community of Latino professionals and lovers of Latin American culture!
Our anniversary will be held at One Ferry Plaza (formerly known as Carnelian by the Bay and Gabbiano's). This fabulous place is located behind the Ferry Building on the water with breathtaking panoramic views of the entire SF Bay. We'll also have access to the spacious outside patio. It's easy to leave your heart in San Francisco in this fabulous venue!
Here are some of the highlights:
Connect with members from 12 different Latino Bay Area organizations from 8-10pm
Live guitar performance by Gabriel Navia
Enter to win a trip to Mexico at 10:30 pm thanks to AeroMexico
Enter to win a Motorola XY Board 8.2 Tablet at 9:45 pm thanks to Verizon
Receive a welcome cocktail courtesy of Zacapa Rum
Enjoy a salsa class at 10 pm with DanceSF.com
Enjoy a patio overlooking the Bay Bridge and the Bay on a close to full moon night
After the networking session, stay for a dance reception with two dance floors: Tropical Ballroom hosted by SalsaCrazy.com and the main room with LAM resident deejays Juan Data, Santero, and C Bass playing the best of Rock, Pop, and Top 40
Receive a gift bag at the end of the night with goodies
When you RSVP, you'll automatically be entered to win a Zacapa Rum VIP Educational experience during the event. You'll learn the process of rum and the seven stages of this exquisite Rum.
IMPORTANT: This is a private event and RSVP is REQUIRED to attend. Not a member?

LAM Members and Partners: Get your limited and discounted early bird tickets! Login to http://lamsocialclub.com or check your email to learn how to purchase discounted tickets.
Dress to impress: Semi-formal attire required [no jeans, t-shirts, tennis shoes, baseball hats]
See Video of LAM's 4th Year Gala
LAM 4th year anniversary from Juan P Garcia.
About LAM
LAM Network is an exclusive membership-based community reaching over 4,200 educated Latino professionals. LAM's mission is to unite educated Latino professionals via Latin American upscale events through professional development seminars, networking mixers, dinners, parties and other events. In the past 5 years LAM has organized over 200 events providing the Latino community in the Bay Area with opportunities to expand their networks and to create a stronger more engaging Latino community. Not a LAM member? Learn about membership.
This event is sponsored and supported by:
Verizon is committed to supporting and enhancing Latino Small Business' productivity, profitability and growth. Verizon is proud to announce the Latino Business Awards series in the Bay Area. Beginning July 1st, Verizon will be rewarding and recognizing an established business owner, new business owner, and an outstanding working professional with over $70,000 in cash and technology grants to further support their impact in the community. Learn how you can nominate yourself or others to receive one of these awards at http://www.verizoninsider.com/negocios.
---
Discover the story of a remarkable rum: Ron Zacapa Centenario. To trace the story of Zacapa rum, embark upon a journey that will take you from tropical lowlands to high above the clouds.
---

Aeromexico, Mexico's global airline, serves more than 40 destinations in Mexico and major cities in the United States, Canada, Central & South America and Europe, as well as being the only airline in Latin America to offer customers regular and direct flights to Asia.
Aeromexico is a founding member of SkyTeam and offers Clase Premier®, its Business/First Class service, on most flights, providing travelers with unparalleled service and a relaxed atmosphere which allows them to work or rest in the utmost comfort. Aeromexico operates over 450 daily flights from its main hub out of Terminal 2 at Mexico City International Airport.
Aeromexico's global vision focuses on service and efficiency. It has been recognized for its distinguished style of attentive, personalized onboard service (complimentary amenities, meals and beverages – including cocktails) in Coach and Clase Premier®. The airline offers excellent entertainment options including movie and music channels or video games on selected routes.
---
The mission of Latino Leaders Magazine is a simple one and is the basis for the new tagline: Connecting Leaders. Inspiring the Future. Satisfying this claim is the goal of the national staff of Latino Leaders Magazine. By promoting and publishing stories of Latino success, Latino Leaders Magazine strives to showcase other stories than those often seen in the mainstream media, and at the same time, demonstrate the influence Latinos maintain in this country.
---
Alma TV's goal is to create a channel for the latino professional in the Bay Area by broadcasting original content about Latin culture. Alma TV will be the hub of information about events, food and arts presented in a professional and stylish fashion.
---
This event is co-hosted by our partners:
---
The National Society of Hispanic MBAs (NSHMBA) was created in1988. Widely known as the "Premier Hispanic Organization," NSHMBA serves 32 chapters and 8,000 members in the U.S. and Puerto Rico. It exists to foster Hispanic leadership through graduate management education and professional development. NSHMBA works to prepare Hispanics for leadership positions throughout the U.S., so that they can provide the cultural awareness and sensitivity vital in the management of the nation's diverse workforce.
---
The San Francisco Hispanic Chamber of Commerce promotes the economic development of its members and the Hispanic business community in San Francisco and the Greater Bay Area.
---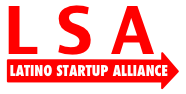 Latino Startup Alliance. Vision: To promote and cultivate a tech entrepreneurial spirit within the U.S. Latino community; to increase the amount of Latino led technology innovation not only in Silicon Valley but across the U.S.
Mission: To encourage the inspiration and cultivation of U.S. Latino led technology startup ventures by providing a strong support network of fellow entrepreneurs, investors, innovators, & mentors.
---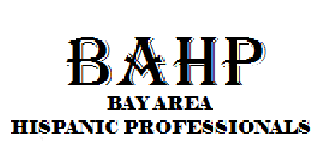 The Bay Area Hispanic Professionals Meetup is a group of Hispanic Professionals who share the love for our Latin customs, traditions and our Spanish language. The group unites our community through many enjoyable social events and promotes the cultivation of friendships and professional relations. All members have the opportunity to participate by suggesting and organizing events of interest to the group.
---
The SF Bay Area SHPE chapter was founded in 1983. The national organization, SHPE was originally founded in Los Angeles, California, in 1974 by a group of engineers employed by the city of Los Angeles. Their objective was to form a national organization of professional engineers to serve as role models in the Hispanic community. SF Bay Area SHPE re-enforces its reputation as a vital Hispanic organization by its social responsibility to be involved in education, business, and community outreach.
---
The Society of Hispanic Professional Engineers Silicon Valley Professional Chapter aims to be the premier Hispanic STEM organization and to increase the number of Latino leaders in engineering and technology. Our vision is to promote professional development, leadership, and community outreach within the Silicon Valley.
---
San Francisco La Raza Lawyers Association is a nonprofit resource for and advocates on the behalf of the Latino legal community in the Bay Area. With multiple active committees and a number of annual events, SFLRLA provides attorneys with a number of opportunities to network, engage in advocacy, and give back to their communities. In addition to promoting the diversification of the legal profession, SFLRLA's work fosters the exchange of ideas and information among members of the legal profession, the judiciary and the community that enable reform in the law necessary to the administration of justice. Our biggest event of the year is Noche de Gala, a dinner to raise scholarships for law students who work at public interest organizations during the summer.
---
Established in 1972, ALPFAis the largest association for Latino professionals and students with 15,000 members, 39 professional chapters, and 80 college/university student chapters. ALPFA is committed to building Latino business leaders through its programs, and by bringing access to leaders and decision makers that can impact our member's professional development.
---
Hispanics Mean Business (HMB) is a much needed resource for professionals around Northern California to build connections and receive:
- Event Invitations, Presentations from experts in different industries and Opportunities to generate more business.
HMB members are proactive in achieving personal growth, community improvement and business success.
---
Latino Business Professionals is the premiere business network in the Bay Area dedicated to professionals and students in various business disciplines.
LBP serves as an incredibly effective catalyst to promote Latino professional success in Corporate America since 1994. We create opportunities for Bay Area Latino professionals to get better jobs and find opportunities for career advancement in the various business disciplines.
---
Cine+Más SF contributes to the Bay Area's active and diverse arts scene through the Latino Film Festival, year-round programming and special events centered on Latino arts- including the visual, performance, and literary arts.
---
EveryCircle.com is a portal designed for executives, decision-makers, professionals, business owners, and community leaders to network, earn revenues, and share information and resources
• Wide array of events, customizable applications, databases, features, and services
---
DanceSF.com is the San Francisco Bay Area's leading Dance School for club style social dancing. We offer fun and social dance classes for people of all ages, and all skill levels! We also offer East Bay and South Bay salsa classes. Our dance classes are geared towards beginner dancers, providing everyone a wonderful, supportive, and fun environment to learn to dance! In addition, DanceSF offers our bestselling Learn to Dance DVD's for your home use.
---
SalsaCrazy.com is home of Salsa Dance all over the world. SalsaCrazy is born of a passion to share the joy of dancing, and to get people learning how to dance. Salsa Dance is vibrant and exploding all over the world, and salsa dancing culture has spread to almost all major (and most minor) cities, in each and every country.